WE ARE is proud to announce we are heading back to La Saladita! We had such a great time last year and we are ready for some Mexican sun again! This trip is for the woman who wants to immerse in the natural elements of a rural, remote Mexican surf village while exploring the realms of food, art, health and fashion. While some of our journeys are spent on the road, traveling to several different backdrops, stretching to see it all, this unique Adventure has us planted on the sand in front of an empty lineup. We will be eating only local and healthy Mexican cuisine daily with fruit and veggies from the home garden grown steps away from the kitchen! Go Global, eat local. We will learn how to upcycle plastic waste into reusable tote bags with a unique creative workshop! We will immerse ourselves in the community as we volunteer at a local community center. During this adventure we will consciously practice plastic-free efforts, work to protect all life through environmental efforts with a beach clean up, and truly immerse ourselves in the depths of the expansive Mexican landscapes.
La Saladita Mexico
Boutique Surf Adventure
TO RESERVE YOUR SPOT WITH ONLY A 30% DEPOSIT USE CODE: SALADITA2019
WOMEN FOR WOMEN AMBASSADORS
kiana fores
Kiana is a surfer girl from Hawaii. Her adventurous character makes her a perfect ambassador for this epic surf adventure!

01 - 07
LA SALADITA
Saladita Point, often called a "Mirror Malibu." This long peeling left point break is absolutely perfect for our long-boarders.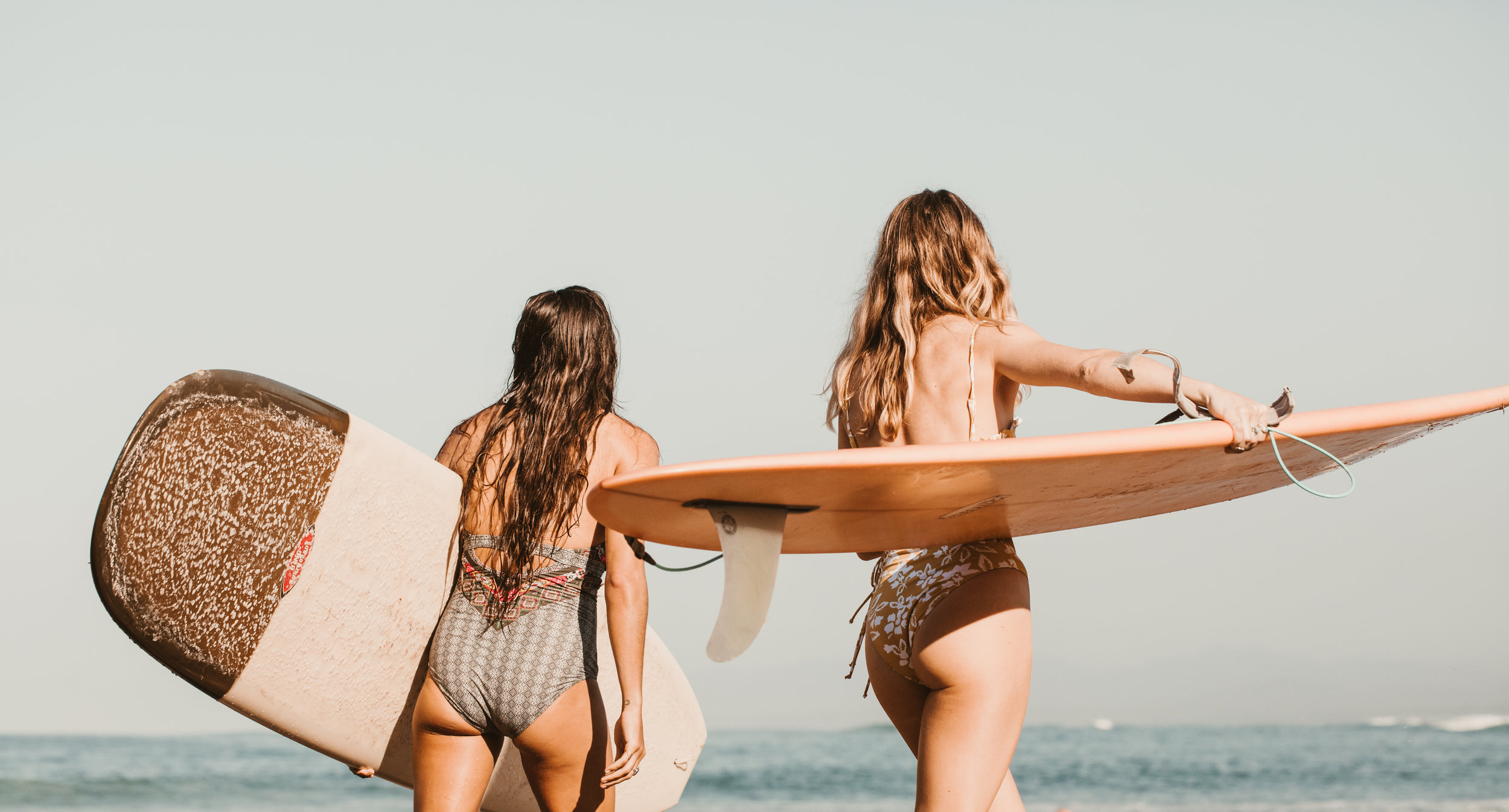 Stay 6 nights at Casa del Surfista
Rest and relax after a long day of surfing—just steps away from the ocean our accommodation is in a prime location!
Cuisine
Learn how to make tortillas in the traditional Mexican fashion. Enjoy healthy, organic and, authentic Mexican cuisine.
Creativity
Learn how to upcycle plastic waste into beautiful tote bags with a workshop hosted in collaboration with Rais Case.
Culture
Spend a day at the local community center painting and playing with the kids.
Adventure
On this adventure will be surfing daily, however, this trip is ideal for all levels of surfing. We will also have opportunities to practice daily yoga and meditation. We will immerse ourselves in the community with a giving back project. Lastly we will explore the realm of traditional cuisine with a tortilla making workshop from the Mexican Mammacita Flora
Surf instructors/rental boards can be hired per request, but is not included in the cost of this trip.
cuisine
On this adventure we will be enjoying traditional Mexican cuisine. All meals will be provided during the duration of this adventure—starting from dinner on night one and ending with breakfast on our last day. We are able to accommodate dietary restrictions with prior notice. Alcoholic beverages not provided.
Included Transportation
Airport transfer from Ixtapa-Zihuatanejo (ZIH) Airport
We will be working in collaboration with Rais Case! We will learn how to upcycle plastic bags into beautiful reusable tote bags. This creative workshop has a perfect balance of education, fashion, and eco consciousness. We will shine a light on plastic pollution and its effect on our planet's oceans while at the same time showcasing a way to utilize the waste created. The materials used in this workshop will be gathered on our beach clean up!
Community
One of the foundational principles of WE ARE's mission is the desire to give back to the destinations visited; redefining how we answer the call to travel. This year we are heading back to the community center! We will bring art supplies to donate; additionally we will donate our time and spend the day playing and painting with the local kids who turn to this community center.
Earth
We will also clean up every beach we set foot in - a small and simple effort, that shines a light on the issues of waste, particularly when it pours directly into our oceans. We will use the trash we collect in our creative workshop to reuse our plastic waste for a purpose.
For every attendee, WE ARE plants a tree through the international movement Treedom, in order to help rebuild forests, capture CO2 emissions, improve air quality and create a tangible symbol for the WE ARE Mission.
WE ARE Creative Adventurers Experience
La Saladita Mexico
Boutique Surf Adventure
TO RESERVE YOUR SPOT WITH ONLY A 30% DEPOSIT USE CODE: SALADITA2019
Whats included
Beachfront accommodation, 7 days/6 nights
Healthy meals for all 7 days (breakfast, lunch, & dinner + snacks)

All taxis + group shuttle to/from Ixtapa-Zihuatanejo (ZIH)

Onsite photographer

Waves footsteps from the house and a world class surf break only walking distance away

Giving back project

Creative bag making Workshop

Healthy, traditional, Mexican cuisine

Daily yoga and meditation

Tortilla workshop
Not Included
Alcoholic beverages

Gratuities

Travel Insurance

Flight
Fly into Ixtapa-Zihuatanejo (ZIH) AirportArrive around/before 3:00 PM for a group shuttle to our hotel at 4:00 PM.

Airport transfer is 40 minutes
The adventure begins on March 2nd with a group shuttle transfer at approximately 4:30 PM in Saladita
Frequent daily flights with multiple operators from Ixtapa-Zihuatanejo Airport. Transfer from airport to hotel included.
Time to be confirmed
The adventure ends on March 9th with a closing ceremony and breakfast.
Frequent daily flights out of Ixtapa-Zihuatanejo Airport. Transfer from hotel included.
La Saladita Mexico
Boutique Surf Adventure
TO RESERVE YOUR SPOT WITH ONLY A 30% DEPOSIT USE CODE: SALADITA2019